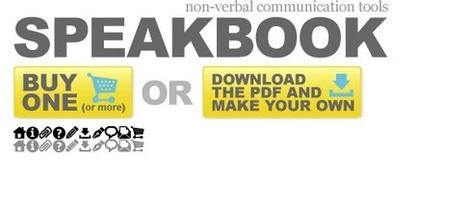 Speakbook is an easy to use, easy to learn, communication tool for people who can't speak and can't use their hands. With Speakbook you can talk using only your eyes. Find out where to get a Speakbook, or download the PDF for FREE here and have it printed cheaply at your local copy shop – or print it yourself at home.

Speakbook was developed by Patrick Joyce, who has motor neuron disease, also known as MND or ALS. People with MND usually lose the ability to talk and use their hands, and Patrick realized that there was a need for a cheap, easy to use, communication tool for people who only have their eyes left. Even people with hi-tech communication equipment often have times when they can't use it. This may be in the car, or if it is raining or in the bathroom when a hi-tech device might get wet. Its not just MND either. People with Cerebral Palsy, Spinal Muscular Atrophy, Multiple Sclerosis, Traumatic Brain Injury, and various neurological disorders may benefit from speakbook.

Speakbook.org is a non profit organisation determined to help as many people as possible to keep talking – because communication is everything.
Via
PrAACtical AAC