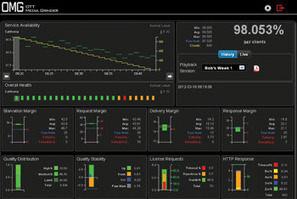 Sometime during the past five years, streaming video on demand from the Internet became a respectable delivery method.
Today, traditional broadcasters, networks and many upstarts deliver a breathtaking number of online playbacks every day, and suddenly there needed to be methods for monitoring, testing and measuring the stability and reliability of this new delivery medium. There's even a new name for video that's delivered online on demand to viewers: over-the-top (OTT) video.

Broadcasters are great at creating high quality content, but delivering the content online has been a puzzle as far as ensuring that viewers got an experience as good as the broadcast signal. Fortunately, several companies responded with a variety of products to allow just about every facet of online video to be tested and measured.
Via
Nicolas Weil