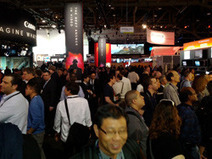 Over a decade ago, Lost Remote was the first blog to cover the National Association of Broadcasters convention — a huge showcase of television technology in Las Vegas — about how the internet was changing the business. This year, we returned to NAB to see how social TV is impacting production, from tech to workflow. Like the late 90s with the internet, it's still early, but social TV is beginning to make inroads.
"There are so many technology providers here, and the interest in social TV is disproportionate to the innovation," said Sam Decker, CEO of Mass Relevance. "It's such a small part of all the real estate and discussions that are happening." But he said he sees the technical crowd beginning to react to demands from producers who want more social functionality in the production process.
One of the biggest trends is focused on making it easy for producers to integrate social content on-air. Until now, displaying a tweet or a poll has been extremely labor-intensive (put poll on website, tease website from on-air, refresh poll results, create graphic of results, write them into script, drop it into the rundown.) But new partnerships are automating the entire process, tying it to social curation and the second screen.
Via
Nicolas Weil