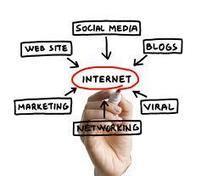 As a marketing expert, I receive a lot of emails, calls, and I notice tons of questions on discussion boards from business owners who are trying to market their business online.
So as a business owner, what do you do? Here's the top 10 ways to market your business online:
1. Writing and Submitting Articles. For writing and submitting articles there's only one place to go: Help A Reporter Out (HARO). HARO is one of the fastest-growing social media services in North America.
2. Guest Blog Posting. I'm a huge fan of guest blogging. In my opinion, it's the most effective online marketing strategy there is, assuming you do it correctly. The great thing about guest blog posting is that you get introduced to a whole new audience and that content last forever.
3. E-mail Marketing. E-mail is the most popular online activity on the internet. For most businesses, permission-based marketing are the most memorable and cost-effective way to reach new and existing customers. I would recommend MailChimp as a tool to use.
4. Create a Blog. Blogging requires the discipline of creating, writing, and/or contributing information of value to your niche market (a segment of mainstream).
5. Participate in Social Networking. Social networks like LinkedIn, Facebook, Google+, Twitter, and Pinterest (Arenas) have hundreds of millions of users that are connected to one another.
6. Offer a Free eBook or Checklist. Auto-responders are programs set up to automatically respond via e-mail when triggered.
7. Start a Podcast. Is simply an on-demand radio show. Some of your target audience will learn by hearing and podcasting address this issue.
8. Do Online Radio and Podcast Interviews. This a great way to get introduced to other people audience's.
9. Participate in Discussion Forums. Forums are another name for online bulletin boards. online discussion boards, and online message boards.
10. Start a Newsletter. Publishing your own free newsletter can bring huge amounts of qualified traffic to your websites while helping you increase your profits.
Finally, be patient with your online marketing efforts.
Via
Mary Anne Hahn
,
Barbara Saunders
,
Ivo Nový