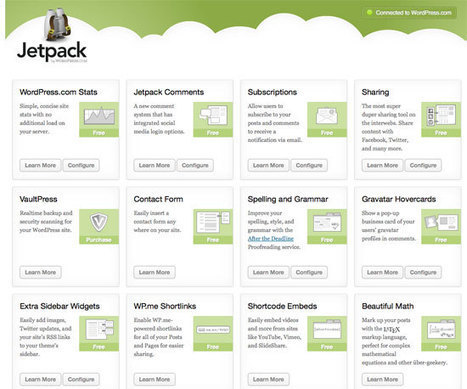 "This review of Jetpack got me over my doldrums and disaffected non-blogging status with my WordPress website. It's a very handy and FREE set of tools!"
I've implemented the social media integration already via my self-hosted Wordpress site: REVELN.com. This social media share plug-in element IN PARTICULAR is EASY. Finally, Wordpress!

Glossy, media rich platforms that don't so much need the heavy lifting of html like Posterous and Tumblr still dazzle, but at least WP is catching up with this fantastic plugin pack with it's very own navigation menu.

Why, I might even mini-blog this and pin it on one of my 45 Pinterest boards. Heh, and you might think I'm kidding.
Below is the #1 reason from the Jetpack review on why Wordpress users will want to take a look at this cool plugin pack.
Excerpted:
1. Easy to Install, Setup, and Learn
Jetpack could not be easier to install and set up, considering how many different benefits it provides.
To install it, just go to Plugins –> Add New and then type "jetpack" into the search box. It'll be the first result.
Hit "Install Now" and you're ready to go (unless you need to create a WordPress.com account, which is necessary so you can link it with your blog and Jetpack).
Once you've got the plugin activated, it will create its own dashboard nav bar menu section right at the top.
If you want to see the social media I now am using, thanks to JetPack, which made it EASY, go to THIS blog post, "Open Space on Speed: Social Business with the Coaches, Results! Video" and scroll down to the bottom.
Note the social media icons and ease with which you can comment and share! (And DO feel free to share with comments! :-)
===
Enjoy. There's something there for just about everyone, it seems.
~ Deb
Via
Deb Nystrom, REVELN