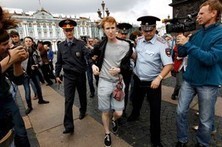 Though there are no official statistics on the number of Russians seeking asylum in the U.S. on grounds of their sexual orientation, there is some suggestion applications could be on the rise.
Artem Mitrofanov came to the U.S. with scars of growing up gay in Russia. Some were literal, such as the one on his wrist from the day he says a skinhead slashed him with a broken bottle. Others were internal, including pains in his kidney, which he says are the result of being beaten by assailants wielding religious icons who told him he should die.
Police detain gay-rights activist Kirill Kalugin in St. Petersburg early this month after a one-man protest during a holiday celebrating paratroopers.
Still others were psychological. "If you're gay, that's it. It's like a mark on you," said Mr. Mitrofanov, who is 27 and from Moscow. His solution was to leave. He applied for asylum in the U.S. in 2009 and won refuge in 2010.
Such departures may become more common as Russia moves ahead with controversial antigay regulations, which have led some to call for a boycott of the 2014 Winter Olympics in Sochi. President Vladimir Putin in late June signed into law the so-called gay propaganda bill, which punishes those who publicly inform minors that "nontraditional relationships" are OK. Other new laws ban adoptions by same-sex couples and criminalize actions that insult the "religious feelings" of Russian believers.
Though there are no official statistics on the number of Russians seeking asylum in the U.S. on grounds of their sexual orientation, there is some suggestion applications could be on the rise.
Immigration Equality, the largest organization in the U.S. devoted to helping gay asylum seekers, has fielded an increasing number of inquiries from Russia. It received 63 inquiries from Russians in 2012, up from 35 in 2011. This year, there have been 32 inquires through mid-June. The group is currently handling 28 cases for Russians.
"We have had a handful of Russians per year, but over the last couple of years that number has really shot up," said Victoria Neilson, Immigration Equality's legal director. She said the group still handles the most asylum claims from Jamaica, where unlike Russia sexual relationships between men are illegal and punishable by up to a decade in prison.
The U.S. has had a policy of awarding asylum to gay applicants on the basis of persecution fears since 1994. Asylum seekers present an application that notes their sexuality and reasons they fear persecution. It often includes letters from friends or family and medical records for victims of attacks.
Ms. Neilson said there is no "magic formula" for an applicant to prove to an adjudicator that he or she is gay but "detailed, credible testimony can be sufficient." Successful claimants cannot return to Russia even temporarily, or they would risk jeopardizing their status with U.S. authorities, she said.
Rob Hughes, an immigration lawyer in Vancouver who advises gay clients on asylum in Canada, said he received two such claims from Russian men recently after more than a decade of seeing no Russian applications.
Alexander Kargaltsev, a 28-year-old Russian gay activist and filmmaker who received U.S. asylum, said he used to receive about one message a month from gay contacts in Russia asking how to seek asylum abroad. But this summer he said the number has climbed to practically one a day.
Mr. Kargaltsev believes it is a response to what he sees as Russia's increasing intolerance of homosexuality—part of a growing campaign against Western liberal values that has become a prominent feature of Russian politics since Mr. Putin's return to the presidency in 2012.
The new Russian laws come on the heels of local antigay regulations, such as the Moscow government's decision in 2012 to ban gay pride parades for a century. The Russian Orthodox Church's leader, Patriarch Kirill, last month described gay marriage as "a very dangerous sign of the apocalypse."
Such moves are popular in Russia, where gay sex has been legal since 1993 but homosexuality remains largely taboo. According to an April survey by the Levada Center, 73% of respondents said the government should suppress public expressions of homosexuality.
Some say the emphasis on anti-gay regulations helps the Kremlin undercut support for the pro-Western urban elite that recently helped mount the biggest protests to threaten Mr. Putin's rule. Many of the protesters are among the minority of Russians who support gay rights.
Via
littlebytesnews