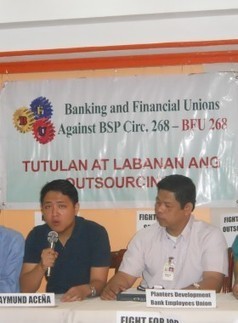 Banking giant Hong Kong and Shanghai Banking Corporation (HSBC) has terminated the president of the local union as part of the company's desperate bid to suppress opposition to its outsourcing schemes, a labor NGO disclosed today.
Ecumenical Institute for Labor Education and Research, Inc. (EILER) condemned HSBC's decision to unjustly terminate last March 30 Raymund Aceña, president of the Hong Kong Bank Independent Labor Union (HBILU). Prior to the termination, Aceña was put under a 30-day preventive suspension during the "freedom period," days before the start of negotiations for a new Collective Bargaining Agreement (CBA).
Acena was sanctioned due to technicalities that were believed to have something to do with his position as union president and the company's desperate move to kick out union members who are in the forefront in the fight against outsourcing.
"By trying to weaken the union ahead of the CBA negotiations and amid the employees' active struggle against the outsourcing of regular functions, HSBC only confirms its desperation to get rid of those who are in the vanguard of protecting workers' rights," said Anna Leah Escresa, EILER's executive director.
"This is not the first time that HSBC launched an attack against its regular employees. It should be remembered that the company pursued to outsource its 150 employees in 2009, resulting to the decrease in the number of its employees, as well as diminishing the union membership," she added.
In the midst of the implementation of the BSP Circular No. 268 which legitimizes outsourcing in the banking and financial industry, Aceña together with HBILU stood firmly in their struggle to combat outsourcing and contractualization and in asserting for job security among their ranks. The HBILU, under the leadership of Aceña advanced their struggle on various fronts to assure that HSBC will not compromise the employee's job security.
"This attack toward Aceña only mirrors not only the company's but the whole banking industry's desperate move in eliminating genuine and progressive unions who are strongly battling assault toward employees and trade unionism," said Escresa.
The young, vibrant, and outspoken Aceña only sided with the majority of workers struggling for their basic right to unionize and their right to security of tenure.
"EILER joins Aceña and all workers in asserting their basic labor rights and in fighting against outsourcing and contractualization. Only through genuine trade unionism can workers be united and be victorious in their struggle for labor rights," noted Escresa.