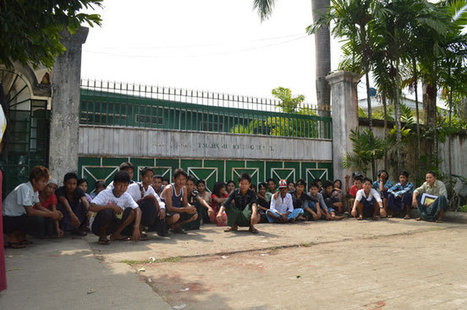 Myanmar workers from Dagon Seikkan Township's garment and wood factories went on strike recently, demanding for a better salary and compensation.
On November 5, Golden Day garment factory workers started to strike as the factory management failed to pay their October wages because of a plan to shut down the factory. The workers continued their actions until November 16, demanding another three months compensation if the factory is shut down.
A garment factory worker said: "The ministry of Labour came to solve the problem. But the owner has yet to respond."
Just recently, as many as 34 Hlapa Thaw wood factory workers also went on strike over poor salary and mistreatment.
"Ministry of Labour officials came to negotiate the cases. But we have not yet found solution. The wood factory workers went on strike because the company failed to pay the salaries on time," said Nay Linn who advocated the Hlapa Thaw factory workers.
The representatives of both of the factories cannot be reached for comment.