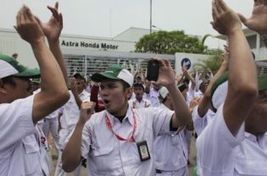 The Bekasi Workers' Association has slammed recent attacks launched by a group of people on several workers' posts in the Jababeka Industrial Area, Cikarang, Bekasi.

Budi Wardoyo, Bekasi Workers Joint Secretary Labor spokesman, believed the attacks were launched based on an order from a certain party and not based on the attackers' own initiative.

"Previously there were leaflets circulating that warned workers to stop staging demonstrations because they disrupted the security in the area," Budi told BeritaSatu.com on Monday.

Budi believed the attacks were in response to the workers' demonstrations. Authorities and government already knew about the plan but chose not to take any preventive measures to protect the workers, he said, adding that since Sunday night, a group of people had attacked several workers' posts in Jababeka.

"The thugs began by searching Samsung workers, some of them were stopped and hit," Budi said. "They stopped not only at that but the attackers also took off the workers' clothes, those who wore the labor forum uniform."

According to Budi, the attackers, who called themselves the United Bekasi Community Forum, had asked workers to sign an agreement to stop staging demonstrations and to accept the outsourcing system.