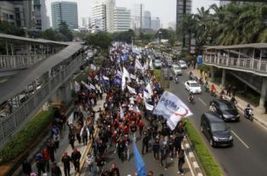 The Indonesian Council of Workers (MPBI) on Tuesday said it is planning to stage massive protests against the practice of outsourcing on Wednesday, potentially leading to major traffic congestion in the capital and its satellite cities.

"MPBI apologizes to the people of Indonesia if they feel their comfort is disturbed or they get trapped in congestion," said Said Iqbal, the president of the Confederation of Indonesian Workers Unions (KSPI).

Iqbal, whose KSPI is part of the council, said Wednesday's protests would be held at several locations throughout the Greater Jakarta area.

He said protests will be staged from 9:00 a.m. until 6:00 p.m., with the union expecting some 2.8 million people in 21 districts and municipalities and 80 industrial zones to take part. The largest demonstrations, involving some 500,000 people, will take place in seven industrial zones in Bekasi.

Iqbal said the protest was to demand a halt to the practice of outsourcing manpower, in which employers hire workers from other companies, commonly subjecting them to less generous employee benefits. The workers will also demand an end to low pay and will voice their rejection of the government's proposed plan for workers to pay 2 percent of their wages toward health insurance.

Iqbal further added that if the government continued to ignore workers' demands and failed to pledge that it will provide every citizen with health insurance coverage by Jan. 1, 2014, 10 million workers in 28 provinces would hold a mass strike in November for seven consecutive days, in the process blocking 12 toll roads.

Meanwhile, Industry Minister M.S. Hidayat on Tuesday called for a dialogue with the workers, warning that the planned action could disrupt national production.

"Strikes are part of a movement that can affect the production process and this is what I want to avoid," Hidayat said.

Hidayat said the issues brought by the protesters could be addressed through dialogue, without labor unions having to take to the streets.

"They have the right to conduct their protests as long as they do not affect and disturb production and also do not disturb those who do not want to join the protests," the minister said.

Meanwhile, Hatta Rajasa, the coordinating minister for the economy, said he had met with representatives of the workers on Monday night and again on Tuesday.

"I really want to find the best solution, not just call for not holding such protests. That is not the solution. The solution is not to protest, not to strike, but there should also be a solution at the same time," Hatta said.

He conceded that the practice of outsourcing was in fact prohibited with the exception of only five types of businesses, including oil drilling. He said the government would try to accommodate workers' demands while at the same time working to foster a healthy business climate.