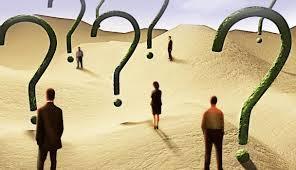 What is the process that the buyer goes through to purchase a product? What is their journey that they transverse to select your product? Have you defined this journey?
And how many different journeys are there? Now if you have a single buyer's journey defined, you're only fooling yourself.
Just as it is with buyer personas, there are multiple paths taken by buyers to reach a decision to purchase your product. And just as it is with personas, you need to group the various journeys into 3 or 4 different buckets, provide each bucket with a moniker, and build out your content accordingly, i.e., what content is provided to which persona at what path during a particular buyer's journey.
WHOA! Suppose you have 3 personas, 3 buyer's journeys, and each journey has on average 4 stages. So does this mean that each piece of content needs to be modified 36 times? Let's not get crazy.
Let's try to simplify matters. Take a persona, and understand that persona's journey, i.e., tie one journey to each persona. Simplify. And with your hypothesis on the journeys taken by each persona, the next step is to test your hypotheses through research.
Don't stop with personas. Take the next step and understand that persona's buyer's journey.
Marketing Technology…NOW!
Have a comment? Email it to info@ineomarketing.com or comment below. I'll publish it here.
Today's curated articles collected for your quick review:
-- > Create Killer "Behind-the-Scenes" B2B Content - Contently http://sco.lt/8puklN
-- > Software Sector study reveals 87% use locked content to generate leads - BrightInfo http://sco.lt/81O9bt
-- > 7 Big Technology Trends Happening in 2014 - Salesforce http://sco.lt/8KK3Ob
-- > How You Can Build Your Google Authorship Ranking- ClickZ http://sco.lt/6ugg2D
-- > The Correct Way to Define a Lead | SiriusDecisions Blog http://sco.lt/7V5SPx
-- > What makes a great B2B product page? - Econsultancy http://sco.lt/7J5uAj
-- > Email Marketers Aren't Ready For Gmail's Grid View - MarketingLand http://sco.lt/6YKlXd
-- > Six Steps to Predictive Marketing Prowess - Gartner http://sco.lt/7KRV2X
-- > Six Reasons to Integrate Your CRM with Marketing Automation - Vocus http://sco.lt/8lDp1F
-- > Email continues to be ranked top for return on investment - Email Marketing - BizReport http://sco.lt/87ymHp
-- > Marketing tech hits Main Street - VentureBeat http://sco.lt/7Y8v7B
-- > The Science of What, When, and How to Post on Social Media - Digital Information World http://sco.lt/5P136v
-- > Infographic: The Rise of Video Marketing - Marketing Technology Blog http://sco.lt/8O0HzN
-- > The Data Machine [Infographic] - Experian http://sco.lt/8v9mZV
-- > The ABCs of Personal Branding [Infographic] - HubSpot http://sco.lt/6tkeiP
See ALL Top Curated Marketing Technology Articles here.
___________________________________
► Receive a FREE daily summary of The Marketing Technology Alert directly to your inbox. To subscribe, please go to http://ineomarketing.com/About_The_MAR_Sub.html (your privacy is protected).
Via
marketingIO