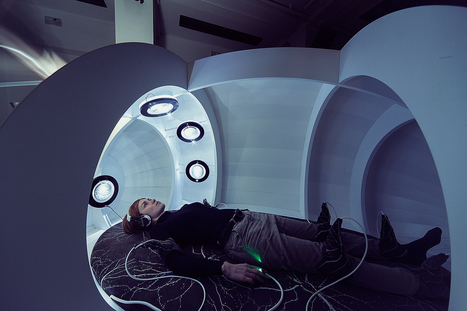 Artwork by Saša Spačal, Mirjan Švagelj, Anil Podgornik

Myconnect is a symbiotic interspecies connector that questions anthropocentric division of nature-human-technology. With its circuit of signals and impulses, that are generated and translated by biological and technological organisms, Myconnect performs an immersive experience of symbiotic interdependence. Through this experience distinction between nature-man-technology can be seen as an arbitrary definition that serves particular biopolitical interests in human society, which can than be shamelessly wrapped in an ideology of utilitarianism and may conceal excessive exploitation.

Myconnect creates an experience of connectedness, of unqualified immersion through the sensory system of the body. The experience of symbiosis in Myconnect capsule is somewhat isolated, like microbiological cultures are isolated in a laboratory. In Myconnect symbiosis is purposefully separated from the environment in order to make it visible, audible and haptic for the visitor.
Myconnect is a neural connection, a sort of 'tsaheylu' from the sci-fi film Avatar. Tsaheylu means in Na'vi language a bond, a neural connection of two beings on Pandora planet formed via their neural queues. Na'vi connect to animals or plants that possess a neural whip or antenna. Neural connection can be formed also between two Na'vis during mating supposedly forming a strong, emotional, lifelong bond. Tsaheylu enables Na'vi deeper understanding of their environment since any emotion or pain is felt on both sides of the neural queues. Na'vi extend and transgress their body. They are becoming the environment thus blurring the body-environment division.