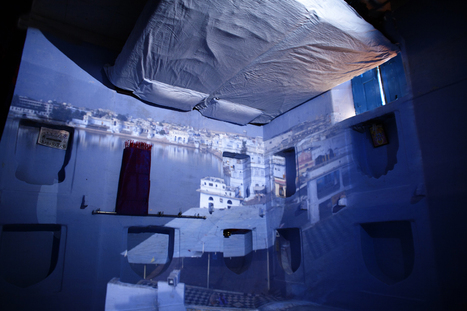 Stenop.es is an experimental, visual project by Paris-based photographers and cameramen, Romain Alary and Antoine Levi that turns an entire apartment room into a pinhole camera.
The idea behind Stenop.es: A Pinhole Movie Project is to project the outside world onto the inside and merge the two landscapes. This is achieved by, 'darkening an entire apartment and blocking out all the light from the outside except for the small amount let through the pinholes'. The effect created is a collage of projected images, turned upside down on to the apartment walls, creating a kind of mesh of ordinary household objects with the edifices and landforms outside.
When asked about the conception of the project Antonie and Romain said that, they had always been interested in using antique techniques on digital support. Which is why, in 2008 they spent a year travelling from Paris to Tokyo, where they captured a lot of pictures and films with cameras like the Lomo LC-A, Leica and 5d. But it was in a rented room in Pushkar, India, that their meanderings finally came to an end and gave birth to an idea. The room, that was located in an ancient palace that overlooked a sacred lake, had a tiny hole in the window pane, which in the morning projected the moving forms of the landscape outside, on the ceiling. The filmmakers realized that using this technique they could turn this room into a nice pinhole project.
Since the inception of the project they have created two films, one as mentioned above in Pushkar, India called Ghat, and the other one shot in Paris, which remains untitled.
Their first film, Ghat was a finalist in 2011's short films contest called, India is.
See the video shot in time lapse here : http://player.vimeo.com/video/46175179
Via
khicṛī