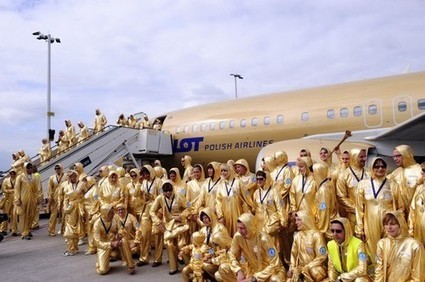 Paweł Althamer: "Common Task", a "live social sculpture", Brussels, 2009, symbolic commemoration of the 20 year anniversary of the end of communism in Poland.
In 2009 : Twenty years ago communism fell in Central and Eastern Europe. It was Poland where the transformation which changed the course of European history began. A special artisic-social project entitled "Common Task" reminded Europeans about events which took place over 20 years ago. On 4th of June 1989 Poland was the first country behind the Iron Curtain to organise free elections.
To commemoration this fact, artist landed with 160 other passengers of a Boeing 737 in Brussels. They all were wearing golden suits that look like a combination of space suits and fairy-tale costumes. Even the plane was specially designed and painted gold - all as part of Althamer's work Common Task (the Polish expression "Wspólna sprawa" could also mean "common issue" or "common quest"). Their first stop in the city was the Expo 58, a modernist dream-town. A model of an atom was a starting point of the visit to the European Parliament and "meetings with the residents of the city". They were making a tour of the city as strange, alien visitors. 160 gold-dressed aliens.