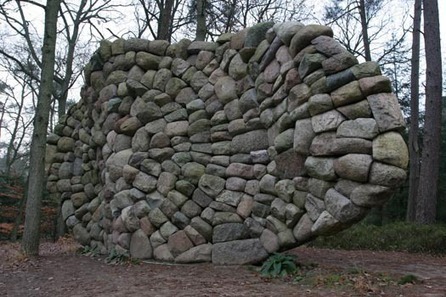 Chris Booth: "Echo of the Veluwe", Sculpture Park Kröller Müller, Netherlands, 2005
The artist Chris Booth from New Zealand has made this sculpture from 310 boulders. In request of the artist, an extensive geological research was carried out on the used boulders.
"The undulating shape of the boulders moves through and between the trees, like the wind moving the sand, like the glaciers of old that shaped the land and brought the boulders from Scandinavia. The shape refers to the waves of the sand dunes, characteristic of the area around the museum, and to the waves of the nearby ponds. The egg-shape of the work was inspired by the surface of one of the ponds. The work of art emphasizes the importance of water, that has become scarce on the Veluwe because of overuse. The spiral shape of the boulders was inspired by the currents of the wind, that changed the shape of the landscape over thousands of years. The work of art also deals with the descructive influence of man on the vulnerable land, by centuries of agriculture and other forms of overuse." Ch. B.