Scoop.it!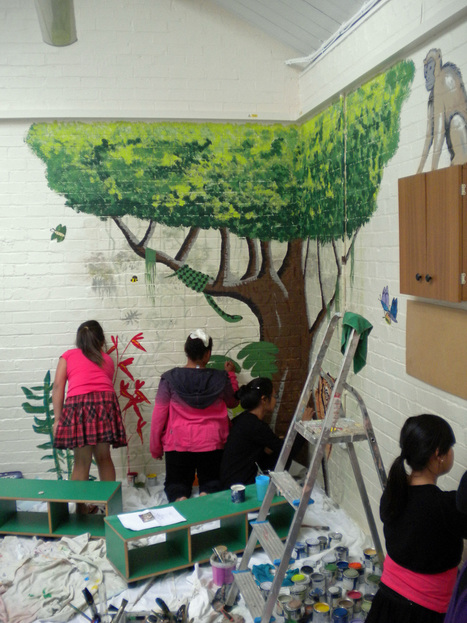 Sarah Hodgkins's insight:
Children naturally love any kind of art – painting, drawing, making music, the theatre. Art stimulates the right side of the brain which controls emotional perception, intuition and creativity. But research shows that even when working on maths and science, typically left brain functions, both sides are working hard, proving that well developed right brain functionality helps all areas of education. Kids should be exposed to the arts as their cognitive skills mature, so that their right brain will be as developed as the left; this means both hemispheres work in tandem, thus helping kids to achieve their full potential.
Art also a great leveler, it doesn't matter what background you are from, where you are from or how much money you have, art cuts across all boundaries and brings everyone to a level playing field.

As a regular painter of murals for schools and youth groups, I am privileged to see how participating in structured artistic activities affects children, and it is quite fascinating. So what exactly do children learn from engaging in visual arts?
1. Creativity – Being able to think on your feet, approach tasks from different perspectives and think 'outside of the box'. If you ask a child to draw a memory or make up a fictitious animal, they can do it. If children have practice thinking creatively, it will come naturally to them now and in their future career.
2. Confidence – Knowing that.there are no wrong answers in art helps a child to take 'risks' and builds confidence their own abilities.
3. Problem Solving – Artistic creations are born through the solving of problems. How do I turn this clay into a sculpture? How do I make my monster look angry? Without even realizing it, kids that participate in the arts are consistently being challenged to solve problems. All this practice develops children's skills in reasoning and understanding. This will help develop important problem-solving skills necessary for success in any career.
4. Focus – The ability to focus is a key skill developed through ensemble work. Recent research has shown that participation in the arts improves children's abilities to concentrate and focus in other aspects of their lives.
5. Non-Verbal Communication – There are many situations where a lack of vocabulary can make getting complex feelings over, very difficult. Expressing emotions through visual arts is liberating and enables the exponent to show others what they are feeling without needing to find the words to explain.
6. Receiving Constructive Feedback – Receiving constructive feedback about a visual art piece is a regular part of any arts instruction. Children learn that feedback is part of learning and it is not something to be offended by or to be taken personally. It is something helpful. The goal is the improvement of skills and evaluation is incorporated at every step of the process.
7. Collaboration – Most arts disciplines are collaborative in nature. Through the arts, children practice working together, sharing responsibility, and compromising with others to accomplish a common goal. When a child has a part to play in the production of a piece of art, they begin to understand that their contribution is necessary for the success of the group. Through these experiences children gain confidence and start to learn that their contributions have value.
8. Accountability – When children practice creating something collaboratively they get used to the idea that their actions affect other people. They learn that when they are not prepared or on-time, that other people suffer. Through the arts, children also learn that it is important to admit that you made a mistake and take responsibility for it. Because mistakes are a regular part of the process of learning in the arts, children begin to see that mistakes happen. We acknowledge them, learn from them and move on.
Charlotte Designs are experienced in running workshops designed to help children create large collaborative works of art. These can be painted directly onto walls, inside or out, or onto large boards. The benefits of physically doing the painting and the legacy of an inspiring piece of art, is a powerful combination. Not only will it develop the skills necessary to produce confident, well balanced individuals, but it will put a smile on everyone's face, for many years to come.
Sarah Hodgkins
Charlotte Designs
Engage – Inform – Inspire!