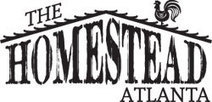 Kimberly Coburn, who founded The Homestead Atlanta, explains why 'old-school' is making a comeback with the modern homesteading movement.
Is there a difference in curriculum for a folk school in a city compared to one serving more rural regions?

To be honest, that's something we'll have to see moving forward. For the most part, no — sustainability and the ability to care for yourself with aesthetic integrity are of equal value whether you're living on 20 acres or in a high-rise. Of course, certain concessions have to be made and alternative approaches explored to compensate for the lack of time and space facing most urban dwellers, but what is lost in land availability is made up for by availability of resources and community. If, for instance, you took a beginning blacksmithing class with The Homestead Atlanta and really wanted to continue learning, there are a surprising number of forges scattered across the city. One significant difference I've noticed between urban and rural regions in terms of this kind of education is that many of the lost arts were never entirely lost in rural areas. Plenty of people — whether by choice or necessity — maintain a "fix it up, wear it out, make it do or do without" ethic while urban culture seems increasingly dependent on the temporary and the disposable. All the more reason, then, to offer education where it's needed most.