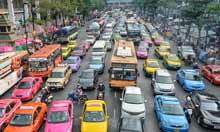 Forget jet-packs experts say that car-share schemes and electronically governed 'smart autos' are the answers to ever-increasing city congestion...
In an effort to map out the implications of such growth, the Guardian, in association with Ford, assembled a panel and audience of experts to discuss the future of sustainable transport. The seminar was streamed live on the internet so remote viewers could follow the discussion.
The panel discussed a number of questions, such as: can society possibly function with so many people driving so many cars?; is global gridlock inevitable?; will the transport of basic items such as food and medicine become a fraught and unpredictable challenge? Audience members were invited to participate in the discussion and ask the panel questions of their own. (...)
Sylvain Haon, secretary general of Polis, a network for European local authorities focusing on transport policy, noted, the use of cars in cities may already have peaked. Researchers have measured drops in journeys over the past decade in several European cities such as London, Stockholm, Vienna and Zurich. The same trend is evident in Australian cities and even in the US, with Atlanta, Houston, Los Angeles and San Francisco showing declines from very high levels of car use in the mid-1990s.
In the case of London at least, the change has come about partly through improved alternatives and partly through policies that make urban driving even less inviting than it might otherwise be. As the seminar heard, putting control of city transport under a single authority was vital, allowing the funds from congestion charging to be ploughed into alternatives to the car.
The resulting increases in walking and cycling also promise health benefits beyond better roads and cleaner air. Robin Stott, an audience member, cited medical studies that predict the world will contain a billion obese people by 2030 – a trend that might be countered by just a little more exercise.