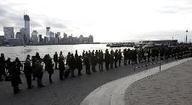 For decades, people who concern themselves with the world's "wicked problems" -- interconnected issues like environmental degradation, poverty, food security and climate change -- have marched together under the banner of "sustainability"....
Among a growing number of scientists, social innovators, community leaders, nongovernmental organizations, philanthropies, governments and corporations, a new dialogue is emerging around a new idea, resilience: how to help vulnerable people, organizations and systems persist, perhaps even thrive, amid unforeseeable disruptions. Where sustainability aims to put the world back into balance, resilience looks for ways to manage an imbalanced world.
(...)
Andrew Zolli, the executive director of PopTech and Ann Marie Healy is the author, of "Resilience: Why Things Bounce Back."