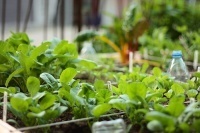 In 2010, just 67 New York gardens yielded 87,000 pounds of food. Some experts believe data like this is crucial to ensuring the urban agriculture movement takes root.
Christopher Weber writes:
A couple of years ago, a community garden in my Chicago neighborhood got the boot. A university owned the land, and even a determined grassroots campaign could not stop it (cue Joni Mitchell) from turning 140 bountiful plots into a parking lot. The eviction, and similar ones taking place nationwide, highlight one of the biggest challenges facing urban agriculture: a lack of land tenure.
....
"We have to be able to demonstrate the power of gardeners as a constituency," says Ben Helphand, who will lead a survey of more than 300 Chicago gardens in 2013. His team will use scales to tabulate harvest totals, as Gittleman did in New York. It will also complete in-depth studies of six representative gardens.
Helphand directs a nonprofit, NeighborSpace, whose mission is to safeguard Chicago's community gardens. He expects the survey data will provide NeighborSpace — and agtivists in general — with a significant new tool.