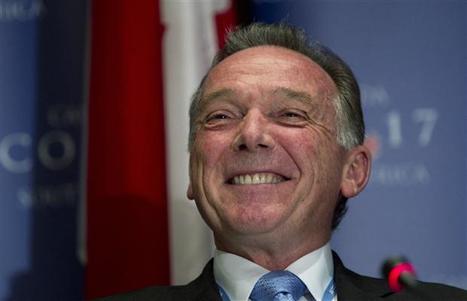 "Canada is pushing for a new binding international climate-change regime to come into effect within four years to avoid dangerous interference with the atmosphere, Environment Minister Peter Kent said Thursday.
Speaking to reporters after a public appearance at a side event at the United Nations climate-change summit, Kent acknowledged there were a lot of issues left to resolve before the end of the conference on Friday.
In a separate teleconference call with reporters in the evening, he also acknowledged rumours that the summit could be extended by hours or even days to conclude negotiations.
But he said he hoped nations would walk away with a "mandate" to negotiate the new deal to replace the Kyoto Protocol on climate change to prevent average global temperatures from rising more than 2 C above pre-industrial levels. That level is considered by countries to be a "tipping point" that would cause irreversible damage to economies and ecosystems.
"Time is really running short, in terms of (reaching) the two degrees (Celsius of warming), and Canada is already past that (level) in the Arctic," Kent said. "We really do need to find a way to get meaningful, significant reductions from the major developing economies — the major economies that were never (bound with targets) to Kyoto."
He also recognized the new deal must not punish poorer countries, signalling a shift from remarks he made less than a week earlier. At that time, he suggested the developed countries were being asked to take on an unfair burden in stabilizing heat-trapping greenhouse gases in the atmosphere. ..."