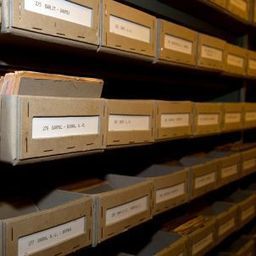 By David Crossland in Bad Arolsen, Germany
Global Web of Memory
Reorganizing the database is one of the tasks of Susanne Urban, the ITS head of research, who joined the archive in 2009 after working in Yad Vashem, Israel's official memorial to the Holocaust. She says she expects the archive to reveal a plethora of "mosaic stones" to complete the picture of the genocide rather than alter it.
"Here you keep getting confronted with the global aspect of the Holocaust and survival, you see how it started in Germany, spread across Europe and with the documents about the survivors we see how a web of memory has spread across the whole world. Here you get an overview over everything. What makes it so harrowing is that you don't just get one aspect, you get them all. You sense this monolith that was built of pain and sorrow."
The work may be fascinating, but it can also be exhausting and saddening. Urban has only two research assistants on temporary contracts, which she says isn't enough.