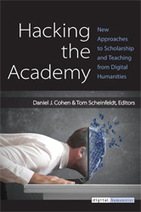 Why "Hacking"?Tad Suiter
As a fan of Oulipo and Oubapo, the notion of trying to crowdsource the meat of an edited volume in a single week is particularly exciting to me. I think that imposing constraints, even arbitrary ones, can be a very effective technique that can foster creative thought, new ideas, and force one to reassess convention. Which, of course, is all in keeping with the very spirit of this book.
However, as I began to explain the project to friends outside the digital humanities, my academic friends who are not plugged into the world of computer-based methodologies in humanistic research and pedagogy, I got a lot of confused looks and cocked heads when I mentioned the title.
"What does that mean, exactly?" was a common reply...