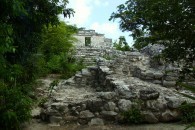 The Classic Maya culture thrived in rainy times and then collapsed in turmoil as the weather turned to drought, according to new research.
An international project including Durham University, UK, and led by researchers from Pennsylvania State University, USA, and ETH Zurich, Switzerland, has created a precisely-dated record of rainfall from cave deposits in the Classic Maya region, and compared it to a 'war index' of hostile events recorded on stone monuments. The research has enabled the team to create a unique historical timeline linking climate and culture in unprecedented detail.
The war index is based on how often certain keywords occurred in Mayan inscriptions on carved stone monuments, and the researchers were able to chart how increases in war and unrest were associated with periods of drought.