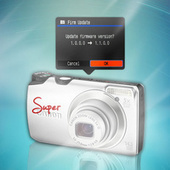 Update!

You don't need to spend thousands of dollars on a camera just for features like motion sensing, time lapse, RAW images, and control over exposure and shutter speeds.


RAW Image Formats: When you take a picture, your camera usually does a bit of automatic post-processing like contrast and other level adjustments. Shooting in RAW disables this, so you can make these decisions yourself when you edit the photo. It's better for professional-level, high-quality shooting, but most point-and-shoots don't support it. CHDK gives you the option.
Manual Controls: Many situations—like taking low-light concert photos or super-fast action shots—require you to make manual adjustments to your camera's aperture, shutter speed, exposure time, and other settings. CHDK gives you a ton more room to play with these settings that you have by default, letting you get better photos at concerts, sporting events, and other things that may have been more difficult before.

Time Lapse, Motion Sensing, and More: CHDK can run small scripts, many of which come bundled with the software, that emulate features of more expensive cameras. For example, you can take time lapse photos (see the video to the right), snap a picture when your camera detects motion (which is cool for things like lightning strikes), support for gorgeous high dynamic range (HDR) photos, and more. You can check out some examples of these below, or see the full list of available scripts at the CHDK Wiki.

Better Video: If you occasionally need to shoot video but don't want to shell out for another video-centric camera, CHDK can beef up your point-and-shoot's video features. You can avoid file size limits with a "continuous video mode" (via a script), and enable optical zoom to magnify far-off subjects without the quality loss that comes with digital zoom.