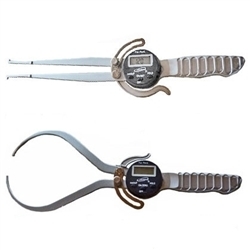 Inside and outside digital calipers for archaeological illustrators and finds specialists...
The outside callipers have a span in excess of 239 mm and the inside callipers in excess of 257 mm, with what we are assured an accuracy of 0.01mm. The moulded knife shaped handles are ribbed for grip and the callipers manipulated by the use of a finger trigger.
Brilliant when taking a reading and then just click hold... no more remembering a measurement or losing it when you pull the caliper out of a pot. you can even just read it straight off the digital lcd panel.
If you are serious about what you do. This will save time and make recording easier. We are proud to bring this revolution to you!