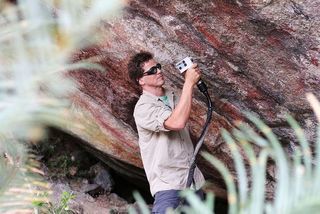 IN a world first, laser technology has been used to clean up millennia-old Aboriginal rock art at Davies Creek, near Kuranda.

And the results are going to be shown in a 52-minute documentary on Austrian, German and Swiss television next April.
Jurgen Steiner, who for 17 years has worked on restoring old churches and castles in his native Austria, worked at the site in 2008 and 2009 applying a substance to harden the rock underneath.
Now he has returned with a unique laser to clean up thousands of years of dirt and grime to return the ancient artwork to near to its original condition.