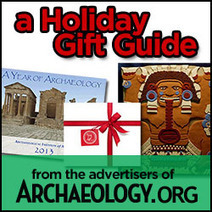 ARCHAEOLOGY's editors reveal the year's most compelling finds.

Any discussion of archaeology in the year 2012 would be incomplete without mention of the much-talked-about end of the Maya Long Count calendar and the apocalyptic prophecies it has engendered. With that in mind, as 2013 approaches, the year's biggest discovery may actually be that we're all still here—at least that's what the editors of Archaeology continue to bet on.

However, you won't find that story on our Top 10 list. We steered clear of speculation and focused, instead, on singular finds—the stuff, if you will—the material that comes out of the earth and changes what we thought we knew about the past.