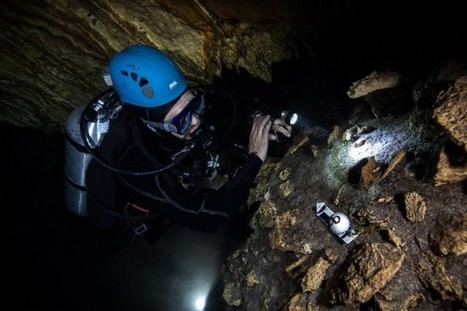 The Mayapán Taboo Cenote Project will undertake an extensive exploration of the underwater cave, Cenote Sac Uayum, to document 20+ submerged skeletons and artifacts. Team leader and National Geographic Grantee Bradley Russell will also investigate the modern belief that a supernatural power- a feathered serpent- guards the water within.
—–
With support from The Waitt Foundation for Exploration and The National Geographic Society, The Mayapán Taboo Cenote Project has concluded its first season of exploration at Cenote Sac Uayum, a sacred, water-bearing sinkhole located at the Postclassic Maya political capital of Mayapán, Yucatan, Mexico (1100-1450AD).
My co-directors, Eunice Uc (INAH Centro Yucatan) and Carlos Peraza Lope (INAH Centro Yucatan), and I have enlisted the help of diver Rait Kütt and diver/archaeologist Lisseth Pedroza Fuentes to explore and document the various ceramics and human remains that indicate use of the cenote by the area's ancient inhabitants.