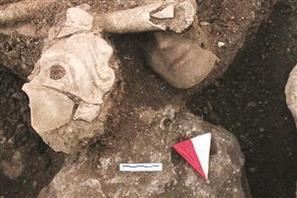 A 2,000-year-old skeleton with a mask on its face has been found in the Aizanoi ancient city in Kütahya, during excavations in the area which have been continuing for two years now with new findings emerging.

Speaking to Anadolu Agency, excavation group president Pamukkale University Archeology academic Elif Özer said the excavations had been ongoing since 2011, and many findings had been excavated from the area. The skeleton was excavated from the northern part of the necropolis eras.

The mask of the skeleton was found along with the face and the body. This mask is thought to have been used in the burial ceremonies in Aizonoi, said Özer. The mask was put on the face of the dead and this might signify the relation of the dead with the ceremony of Dionysos.

At the same time, excavations in Rome, Italy also uncovered masks. These masks have been related to ancestor cult, according to Özer. "We are doing research on this issue," she added.