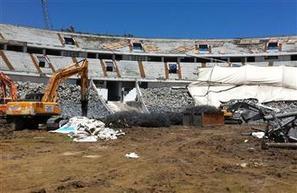 Historical ruins including a vaulted ceiling were intentionally destroyed yesterday with heavy construction equipment in İnönü Stadium, which is undergoing reconstruction, despite the Istanbul Archaeology Museums' appointment of archaeologists to inspect the area.

The stadium is being demolished and a new one will be rebuilt 23 meters north of its current location.

However some historical ruins were demolished yesterday, despite the Istanbul Archaeology Museum's previous notices that construction should stop if any artifacts were found.