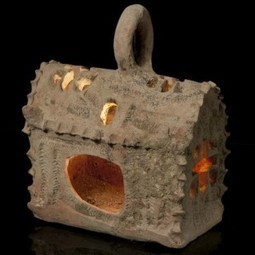 Archaeologists working at spa in southern Israel say lantern is shaped like a miniature church
Archaeologists digging near a spa in southern Israel have uncovered Byzantine-era remains that include a large wine-press and a unique clay lantern decorated with crosses.
The stone remnants of what must have been a significant wine-making apparatus include compartments for storing grapes, a treading floor, and pits for collecting liquid, all spread over an area of more than 100 yards. It would have been in use about 1,500 years ago, the Israel Antiquities Authority said in a statement Thursday.