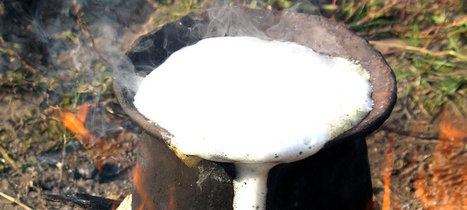 Some years ago in northern Germany, archaeologist Sönke Hartz carried out excavations at a prehistoric camp-site belonging to the Ertebølle culture, close by the river Trave.
Burnt residue from the experiment. Image: Bente Philippsen
During these excavations he discovered an ancient pottery sherd which held remnants of burnt food. Hartz, an expert in the Stone Age of northern Europe, sent the pot sherd away for carbon-14 dating and was amazed when the laboratory came back with a date of 5200 BC.
"It was an archaeological sensation! This pottery was many hundreds of years older than all the pottery that was previously found in Northern Germany. It was older than everyone expected. But, then I was in doubt. I had found the pot by the river, so the food crust could possibly consist of fish. I remembered that there were dating problems with freshwater fish, which could give misleading ages," explained Hartz.