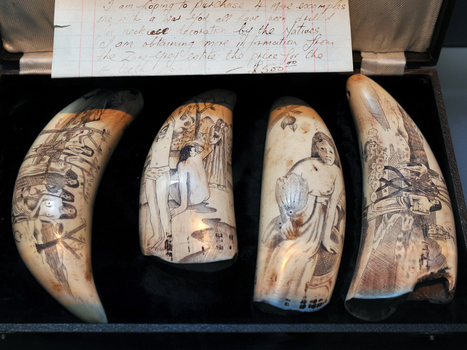 Never mind the Internet. A schoolteacher is sounding the alarm after stumbling upon another medium she thinks may corrupt young minds: 19th-century whale etchings
Ann Pimentel raised the concern — and coined the unlikely phrase — after visiting the Vancouver Maritime Museum (VMM), a modest institution on the city's west side. That's where a small collection of etchings and engravings on whale teeth and bone is on display, part of a larger show that also features example of maritime tattoo art.
Arlen Redekop/Postmedia NewsPart of the Tattoos & Scrimshaw: The Art of the Sailor exhibit at the Vancouver Maritime Museum.
Nine of the etched pieces on display show images of a sexual nature, some of them quite explicit. "A Whaler's Hope of the First Night Ashore" is etched across a tooth that's eight inches long, extracted two centuries ago from an unfortunate sperm whale. Underneath the title is etched a saucy scene. A man and a woman, flesh exposed. Mouths open, limbs entwined. You get the idea.