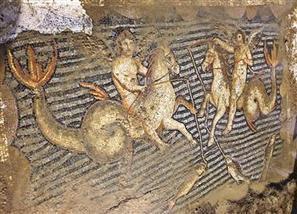 A mosaic featuring an Eros figure fishing on horse has been found in the southern province of Adana's Yumurtalık district. The half fish-half horse Eros, which is called Hippocampus in Greek mythology, is claimed to be the one and only such mosaic in the world.

Made up of marble, glass and stone, the mosaic is estimated to date back to the late Roman or early Byzantine era.

The Adana Museum Directorate has initiated archaeological excavations in the region where the mosaic was discovered.