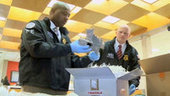 The illegal trade in ancient artifacts is thriving, and pre-Colombian relics from Mexico are among the prized items.

"Like almost like any crime, it's really the same -- it's profit," said Tim Stone, Resident Agent in Charge of the Homeland Security Investigations office in Alpine. HSI is the investigative arm of Immigration and Customs Enforcement (ICE).

Archaeological theft is so profitable, drug smugglers along this remote stretch of border use the same routes to smuggle artifacts into the country.