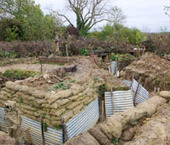 Andrew Robertshaw, Honorary Lecturer at the Institute, has recreated a WWI trench in the garden of his Surrey home, recording battle experience in a new book 24 Hours in Battle set in April 1918.
Andrew, a military historian who runs the Royal Logistics Corps Museum in Deepcut and was previously Head of Education at the National Army Museum, co-ordinated the project to recreate a 20m (60ft) long WWI trench in his back garden in Charlwood, Surrey to help to understand what soldiers went through from 1914-1918.
The replica trench system, consisting of at least two fire bays, a listening post or sap, a section of communication trench to provide access and at least one latrine, cooking area and a dug out is made up of extensive amounts of corrugated iron, revetting timber and sandbags and took a month to build by volunteers and soldiers from the 23 Pioneer Regiment Royal Logistics Corps who had recently returned from Afghanistan.
Andrew and his colleague David Kenyon, both leading experts in the character of trench life in the Great War who have carried out academic studies of trench systems and conditions and trench archaeology, have established Battlefield Partnerships to plan and supervise the replica trench system as well as advising, training and equiping the 'soldiers'.