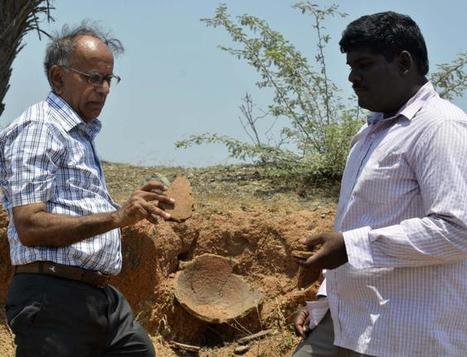 A vast urn-burial site has been found at Mandapam village, near Aarpakkam intersection, about 14 km from Kancheepuram.

The importance of the site, archaeologists say, is that it belongs to a period earlier than the Megalithic Age or Iron Age in Tamil Nadu.
They estimate that the site is datable to 1,800 BCE to 1,500 BCE, that is, 3,800 to 3,500 years before the present.

The site, however, has been ravaged by quarrying for blue-metal. Earth-movers have sliced the big urns and smashed into pieces ritual pottery, bowls and terracotta plates inside the urns.
Quarrying has reduced the site to small lakes with deposits of blue metal jutting out and broken urns protruding in places. A stone-crushing machine is filling the air with dust.
Villager P. Mani, who discovered the site, reported it to V. Arasu, Head of the Department of Tamil, University of Madras, and S. Elango, lecturer in Tamil, Madras University. Dr. Elango, who visited the site a few times, said the flat/conical bottomed urns were buried only one or two feet below the soil surface. While some had ritual pottery and terracotta plates inside, others were empty. There were disintegrated human bones in several urns. More importantly, there were no cairn circles on the surface of the graves to mark them. There were no graffiti marks on the urns.