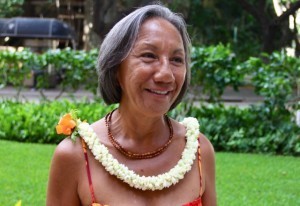 Paulette Kaleikini wants to protect native Hawaiian burials along the planned rail route.
Archeologists surveying the 20-mile route of the planned Honolulu rail transit line over the weekend discovered what appears to be ancient Hawaiian burial sites in Kakaako.
The Honolulu Authority for Rapid Transportation web site documents the October 6 find on Halekauwila Street as "Disarticulated human remains from at least two separate individuals" and a "single, intact human burial."