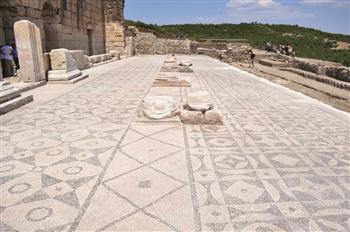 The excavations of the ancient city of Kibyra in the southwestern province of Burdur, known for its history of gladiators, were completed last week. Şükrü Özdoğru, an archeologist working in the city, said they had found a new odeon, roads and mosaics in the city. The team also restored the ancient city's walls and some of the buildings and excavated an ancient water system in the city, which shows the lifestyle of the society that lived there.
Kibyra (sometimes also spelled as Cibyra) is an ancient city and an archaeological site in south-west Turkey, near the actual town of Gölhisar, depending the province center of Burdur.
Possibly originally settled by Lydians, it is also the place where, according to Strabo, the Lydian language was still being spoken among a multicultural population around his time (1st century BC), thus making Kibyra the last locality where the culture, by then extinct in Lydia proper according to extant accounts, is attested.
A tetrapolis (grouping of four cities) was formed under the leadership of Kibyra during the 2nd century BC. The Kibyran Tetrapolis included the neighboring cities of Bubon, Balbura and Oenoanda. The tetrapolis was dissolved by the Roman general Lucius Licinius Murena at the time of the First Mithridatic War.