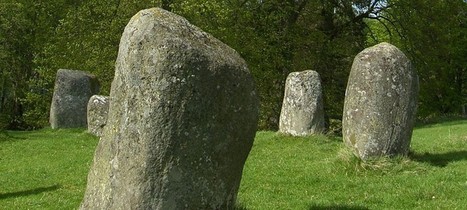 The Croft Moraig stone circle (NN 7975 4726) is located on a glacial terrace a few hundred metres to the south of the confluence of the rivers Tay and Lyon, Perthshire, Scotland.
The circle comprises three concentric settings of stones – a central oval of small standing stones with a ring of larger standing stones and an outer ring of kerbstones.
The site was excavated in 1965 and it was suggested that the first of three building stages involved the digging of a shallow ditched enclosure and the erecting of a ring of posts around a central hearth. This was dated by a piece of pottery to the middle or late Neolithic period. In time the ring of posts was replaced by the central oval and outer rings of standing stones and kerbstones, Piggott and Simpson (1971).