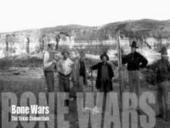 Not exaclty Archaeology - but at this early date, I can be excused

In the late 1800s, a flurry of fossil speculation across the American West escalated into a high-profile national feud called the Bone Wars.Drawn into the spectacle were two scientists from the Lone Star State: geologist Robert T. Hill, now acclaimed as the Father of Texas Geology, and naturalist Jacob Boll, who made many of the state's earliest fossil discoveries.
Hill and Boll had supporting roles in the Bone Wars through their work for one of the feud's antagonists, Edward Drinker Cope. A new study by vertebrate paleontologist Louis L. Jacobs at Southern Methodist University, Dallas, unveils new details about their roles and the Bone Wars in Texas.
Jacobs discovered 13 historic letters written by Cope to Hill. Jacobs found the letters in an archive of Hill's papers at SMU's DeGolyer Library. The letters span seven years, from 1887 to 1894.