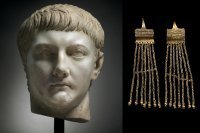 Two U.S. museums wrestle with the provenance question.

n 1966, curators at the archaeological museum of the University of Pennsylvania bought a pile of gorgeous Bronze Age jewelry from a Philadelphia dealer. They couldn't know their purchase would change how museums work.
The 24 gold objects had come to Penn with no trace of where they'd been unearthed, or how. That left scholars there without much clue about why and when the gold had been worked, or by whom— and with the suspicion that it had been dug up by looters.