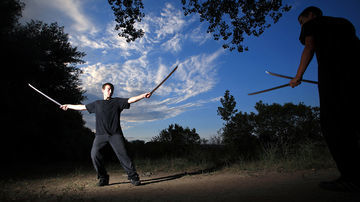 Georgia has long been associated with the traditions of winemaking, song and dance. But the South Caucasus nation can also lay claim to a rich legacy in martial arts.

The Black Shields (Shavparosnebi) – complete with daggers, swords, double-bladed axes and more -- have been a runaway hit at the annual national folk festival Art Gene.

The group, whose members dress in leggings and elaborately embroidered tunics, takes its name from historical groups of armed Georgians, who, with their faces and armor painted black, would attack enemies, usually troops belonging to foreign occupying armies, at night.
Georgia, and indeed much of this area is a fascinating place, a crossroads ( which can be good and bad in so many ways)

Interesting.