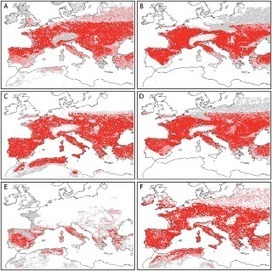 Background

Despite a long history of investigation, considerable debate revolves around whether Neanderthals became extinct because of climate change or competition with anatomically modern humans (AMH).
Methodology/Principal Findings

We apply a new methodology integrating archaeological and chronological data with high-resolution paleoclimatic simulations to define eco-cultural niches associated with Neanderthal and AMH adaptive systems during alternating cold and mild phases of Marine Isotope Stage 3. Our results indicate that Neanderthals and AMH exploited similar niches, and may have continued to do so in the absence of contact.
Conclusions/Significance
The southerly contraction of Neanderthal range in southwestern Europe during Greenland Interstadial 8 was not due to climate change or a change in adaptation, but rather concurrent AMH geographic expansion appears to have produced competition that led to Neanderthal extinction.