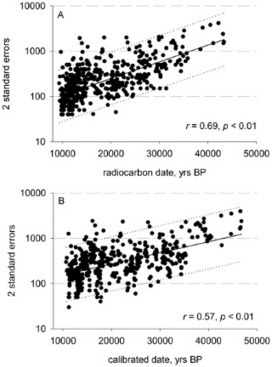 Understanding the dynamics of the human range expansion across northeastern Eurasia during the late Pleistocene is central to establishing empirical temporal constraints on the colonization of the Americas [1].
Opinions vary widely on how and when the Americas were colonized, with advocates supporting either a pre-[2] or post-[1], [3], [4], [5], [6] last glacial maximum (LGM) colonization, via either a land bridge across Beringia [3], [4], [5], a sea-faring Pacific Rim coastal route [1], [3], a trans-Arctic route [4], or a trans-Atlantic oceanic route [5].
Here we analyze a large sample of radiocarbon dates from the northeast Eurasian Upper Paleolithic to identify the origin of this expansion, and estimate the velocity of colonization wave as it moved across northern Eurasia and into the Americas.