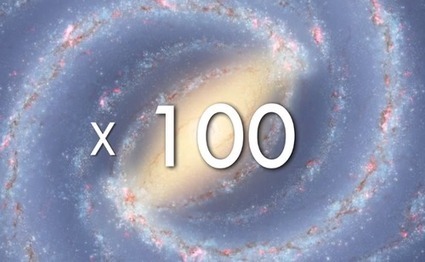 Episode Extra: Life By The Numbers


How do we know how many viruses there are in the ocean?


(This post helps explain some of the science in the latest episode of my show. It's impossible to get all the details into a few minutes. Watch the episode here if you haven't already. Seriously. Watch it, already!)


A lot of people seem pretty blown away by one of the numbers I presented in the video, that all the viruses in the ocean, laid end-to-end, would stretch 100 times the diameter of the Milky Way. Here's where that number comes from:


Curtis Suttle is a biologist at the University of British Columbia who studies marine viruses. In a 2005 Nature paper, he explained how quickly our knowledge of viruses in the seas is growing and how much impact they have on the marine biosphere. First, the math:


After spending years counting (yes, counting) viruses in different parts of the ocean, Suttle determined that any liter of seawater contains about 3 billion viruses (3x109). There's more near the surface, and fewer deep down (even viruses 100 meters below the seabed!), but that's an average. These include viruses from many different families, although distant oceans can house viruses with nearly identical genes. This means that the ocean's viruses are constantly swapping and trading genetic material. Think about what that means for how they drive evolution in marine environments!


Marine biologists have estimated (ESTIMATED) that the oceans hold about 1.3x1021 liters of seawater. Good luck reconciling that number in your head. It's kind of impossible. Do the math and you get 4x1030 viruses, also a rather ridiculous number. Viruses vary in size quite a bit, but using an average of 100 nanometers, that means they would span 10 million light years. One light year is almost 6 trillion miles, so you can see where this is going … express train to silly-ville. The Milky Way is about 100,000 light years across, so that's where the number comes from.


Even more interesting is the weight of viruses in the ocean. Ecologists often measure biomass in carbon, because it's important how much of these building blocks of organic life a particular piece of life (or dead stuff) contains. When something containing a lot of carbon dies, that carbon has to be recycled somewhere. Things that are made of a lot of carbon have to eat a lot of carbon. See what I mean?


The average virus contains about 0.2 femtograms of carbon, which isn't much by itself. But all of them together contain 200 megatons of carbon, which is the same amount of carbon in 75 million blue whales.


Why is that important? I mean, you can't picture what 75 million blue whales look like, right? But maybe you can imagine the impact 75 million blue whales could have on the ocean ecosystem. It would be significant to say the least. That's why it's important to understand how even the smallest units of the biosphere can really throw their weight around when viewed as a whole.


Does this mean viruses are a successful species? What do you think?