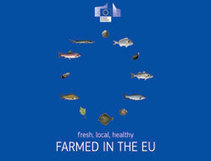 Fish farmed in the EU: a healthy, fresh and local alternative

We all know that fish is packed with protein, it's good for the heart and a rich source of vitamins and nutrients. At the same time, it is no secret that we are overfishing our seas, and are putting our fish stocks in danger.

Fish farming, or aquaculture, can help to relieve this burden on wild fishes when it comes to satisfying our ever growing demand for fish – both in the EU and worldwide. One of the world's fastest growing food sectors, fish farming accounts for about half of the fish eaten worldwide every year with that figure on the rise. Simply put, without aquaculture there would not be enough fish to feed the world population. This would mean having to take more fish from our seas and jeopardising the long term sustainability of our wild fish stocks.