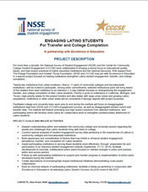 A partnership between NSSE and the Center for Community College Student Engagement funded by the Kresge Foundation and the Greater Texas Foundation
As both community colleges and baccalaureate institutions across the US work to improve student success and college completion outcomes, while maintaining and improving the quality of students' educational experiences, they face persistent and troubling gaps in educational attainment across diverse populations of students. Latinos are the largest and fastest-growing minority population in the US, yet they remain underrepresented and underserved in higher education. Engaging Latino Students for Transfer and College Completion, funded by the Kresge Foundation and conducted by NSSE in collaboration with the Center for Community College Student Engagement (CCCSE) at The University of Texas at Austin, focuses on strengthening the engagement and success of Latino students in major urban areas—particularly in California, Michigan, and Texas, states with large and growing urban Latino populations.
The project will begin with special analyses of student engagement survey data pertaining to the experiences of Latinos in community colleges and baccalaureate institutions. In addition, information will be collected from institutions on high-impact practices and initiatives that best advance the project's goals for Latino students. Findings from the analyses and edited, standardized descriptions of the effective institutional activities will be presented at a 2½-day intensive institute, conducted in collaboration with Excelencia in Education, focusing on improving Latino students' engagement, transfer, and completion. The 22 invited institutions participating in the Latino Student Engagement Institute—including community colleges, baccalaureate institutions, Hispanic Serving Institutions (HSIs), Emerging HSIs, and Potential HSIs—will form networks and develop action plans that can result in strategic planning including a focus on Latino engagement and success; accreditation projects on efforts to enhance Latino outcomes; improved staffing patterns and roles; and strategies for gathering evidence and monitoring the impact of institutional practices and initiatives.