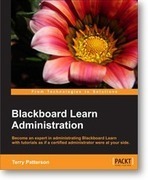 As a Blackboard user and administrator since 1998, I found Blackboard Learn Administration to be an excellent reference for those wanted to know the basics and advance concepts of managing a Blackboard Learn instance for instructors use. The text is easy to follow and full of illustrations to guide the novice or early adapter of Bb Learn.
For those seeking skills on how to integrate publisher building blocks and information systems within Blackboard Learn will find the book very useful. I like the fact that it offers hands-on and step-by-step instructions on successfully administrating Blackboard Learn from an admin expert with great insight on things to avoid.
The opportunity to have some source code to incorporate is an excellent addition for those savvy and willing to try some advanced tasks in a testing environment.
If you are looking for a starting point on how to administer Blackboard, this text Blackboard Learn Administration is the best starting point I have seen in recent years.